Anna Godek
CEO
Almost since the very beginning of her career she was connected with the cosmetic branch. In the years 1989-1998 she was an assignee and a director of production in Chantal company, producing cosmetics for hairdressers. Since 1998 she has been an owner and CEO of Polcharm. The company is the only agent or cooperant of the most important cosmetic fairs all over the world: Intercharm (Russia), Intercharm Professional (Russia), Intercharm (Ukraine), Cosmoprof (Italy), Cosmoprof Asia (Hong Kong), Cosmobeauté (Myanma, Malaysia, Thailand, Indonesia, Vietnam), Beyond Beauty ASEAN (Thailand), Cosmopack New York (USA), Saudi Health & Beauty (the Kingdom of Saudi Arabia).
In the years 2004-2007 in Polmedia Expo Sp. z o.o. was an organizer and a managing director of the annual edition of the International Fair for Perfumery and Cosmetics (Międzynarodowe Targi Perfumerii i Kosmetyki) INTERCHARM POLSKA, which then used to be the biggest event for cosmetic branch in the Central Europe (240 exhibitors).
The Chief Editor and a publisher of cosmetic branch magazines:
TOP PROFESSIONAL (former YOU Professional) – a fashion quarterly magazine for hairdressers issued in the years 2005 – 2013.
COSMETIC REPORTER – a cosmetic branch quarterly magazine published since 2006 till now. Concentrated on promoting export opportunities for Polish cosmetic industry.
A graduate of the Faculty of Electronics at Warsaw University of Technology (MSc degree). Postgraduate studies – "EU Funds Administration" at SGH Warsaw School of Economics.
Adriana Jakubowska
Managing Editor
Since 2013 she has been a Managing Editor of 'Cosmetic Reporter' – a quarterly magazine of cosmetic branch – and a coordinator of exhibition projects in Polcharm. A graduate of Journalism Faculty at Warsaw University.
A journalist of Polsat News channel (domestic and foreign affairs) in the years 2008 – 2010. In the years 2010 – 2012 she was developing her skills in Open source intelligence as a method of collecting and processing the information on individuals and business entities and in Crisis management in Niemczyk and Wspolnicy company, cooperating with national and international corporations and institutions.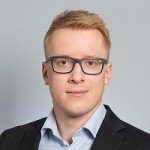 Kamil Kosmowski
Senior Project Manager
He earned master's degree in International Business Economics in English-language studies validated by the University of Wales. He also graduated from the Warsaw University of Technology diploma studies at the Faculty of Pharmacoeconomics, Marketing and Pharmaceutical Law.
He created one of the first sucesful umbrella brand strategy for Doppelherz brand, which become the bestseller on Polish pharmaceutical market within a few years. As a marketing director he has conducted plenty of media campaigns (TV, radio, press, outdoor, Internet) in nation and local range.
Since 2019 in Polcharm, he has been responsible for coordinating projects related to the cosmetics industry fairs organized around the whole world (including prestigious fairs such as: Comoprof in Bologna, Beauty Middle East in Dubai, China Beauty Expo in Shanghai, Cosmobeute Indonesia in Jakarta, Cosmoprof Asia in Hongkong or Intercharm in Kiev and Moscow).
Marcin Szymański
An author of DONATIONS column in 'Cosmetic Reporter' and EU DONATIONS on the website www.polcharm.com.pl
An author of analytical articles and news on EU donations published in 'Cosmetic Reporter' and on the website www.polcharm.com.pl. A creator and an owner of a consulting company A & M CONSULTING GROUP, which occupies with the services in the field of EU donations, projects management and connecting partners in the line of science and economy.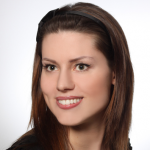 Agnieszka Godek
An author of COSMETOLOGY in Cosmetic Reporter
 A graduate of Pharmaceutical Faculty at the Medical University in Lodz (MSc in cosmetology) and Faculty of Technology and Environment at Opole University (MSc in biotechnology). She is also a licensed nurse and dietician. She has a postgraduate studies in SPA&Wellness and numerous courses and trainings in aesthetic medicine and cosmetology. Simultaneously she used to have a traineeship in numerous hospitals. She is an author of pieces of scholarship and news about cosmetology and cosmetics, which were published in woman's press. She is the lucky one for whom her work is her true passion.
Currently she is a manager,  a cosmetologist and a dietician at the Beauty Academy Perfect You in Warsaw.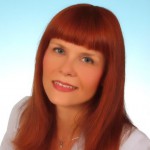 Anna Piekut
An author of PACKAGING column in Cosmetic Reporter
Being a marketing specialist is not only her job, but also a passion. She graduated from the Management Faculty at the Nicolaus Copernicur University in Torun. She has done many courses and trainings in the area of marketing.
She has been occupying with this field for nearly 7 years. She has gained a big experience in such branches as interior decoration and furnishing, FMCG, construction. Currently she works in Politech Sp. z o.o. company, where she is responsible for promotional operations.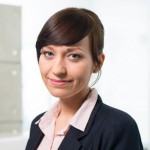 Monika Krzyżostan
An author of TECHNOLOGIES column in Cosmetic Reporter
A cosmetologist with MA at Cosmetic Chemistry. She has been working for R&D sector for 4 years. She conducted research on the efficiency of hyaluronic acid and peptides release from various formulations. She gained her professional experience working as a technologist in R&D departments of cosmetic and pharmaceutical companies. She occupied with personalization of cosmetic content and created numerous cosmetic formulations tailored to individual needs of customers skins. A journalist and an editor of professional website, an author of many scientific publications. Currently she works as a main technologist in AVA Cosmetic Laboratory. Her passion is to join the knowledge on dermatology with brand new solutions in cosmetic industry.